Talk of organizational agility seems relevant right now, but it wasn't a popular term a few years ago. Few people even understood the problem behind scaling - or bringing to organizational scale - agile management principles and values.
In this category of articles on basic management concepts, today it is the turn of the Organizational AgilityWhat is organizational agility and why is it relevant in our time? And what variations of agility can you apply in your organization? Here I tell you how.
The agile movement impulse and its relationship with the generational changeover
Some time ago - hopefully not too long ago - I was discussing in a Webinar about agility and why it was so relevant in our times. In my personal opinion, the reality is that a new generation is fighting its own battles. The dominant generation in today's job market needs organizational agility more than ever. However, other generations can take advantage of agility and incorporate concepts, practices and of course, in the medium term, develop a consistent organizational culture.
Definition of Organizational Agility
Organizational agility is the ability of the organizations for mastering continuous change. This allows them to thrive in an increasingly volatile, uncertain, complex and ambiguous world, also known as the "environment. V.U.C.A. Organizational agility is more friendly with the concepts efficiency and effectiveness that of speed and rapidity. For many companies there is no difference and they think it is to do more in less time and with the same people. What other option do we have than to do everything faster? Are we all wrong? It is always easier and more salesmanship to say that agility is do everything more, faster, and cheaper.
Doing the same work, but better organized with Organizational Agility
Agile organizations are organizations, with a mission, goals, projects, operations and, of course, PEOPLE. In an agile organization:
Work did not disappear or shrink. Organizational agility promotes better ways of grouping and coordinating people to deal with the uncertain environment. This improves response time to an opportunity or threat.
Being clear about the work ahead makes us less stressed. Given that the teams have clear objectives (alignment) and the "team".job to be done"There is less stress. This is also because people are allowed to self-organize.
People feel more comfortable with their work. This happens as organizational agility matures in the enterprise. Time allows for experience. Over time, people become more confident with their capabilities and know the work ahead. They are also enabled to organize with others to best perform or solve each challenge.
The Road to Organizational Agility
The goal of this article is to give you clear advice on how to become a connoisseur of organizational agility. This roadmap and some of my favorite books, articles and videos are below.
Step 1: Know and understand
I have been a university professor for more than 17 years, I started very young with topics related to software development. Today I focus on talent management, projects and innovation related to IT and digital transformation. So, guess what my first tip is going to be: study.
If there's one thing that bothers me, it's trying to be an expert in something I haven't even read a book for. It saddens me to see experts who haven't taken a course, or applied what they preach in their professional. And we are full of examples of inexperienced experts - tremendous oxymoron). So, if you are one of me, I invite you to learn a little, without spending a lot of money on it. Far from being an extensive list, it's a small group of recommendations to get you started.
On agility and innovation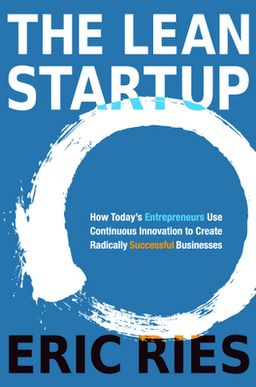 The Lean Startup
This book by Eric Ries is excellent and presents clear concepts about "entrepreneurship" inside and outside organizations. It makes clear the concept of the Minimum Viable Product (or MVP) and the importance of iterating to early validate business hypotheses.
You can visit the website of The Lean Startup or buy his book at Amazon.
Sprint: How to solve big problems and test new ideas in just five days
An excellent book by Jake Knapp that brings to the table how a very focused and capable team, similar to a Scrum team, can generate ideas and validate them quickly before investing in them.
The book is a super recommended reading for those who wish to generate ideas and consolidate incubation processes in organizations.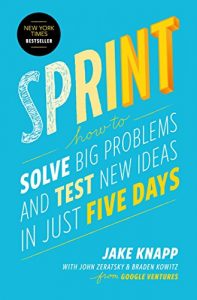 Agility and Management - Management
Life is funny, even though I'm not currently coding, it's something I'm deeply passionate about. There isn't a week that goes by that I don't do research on SW development related topics. I start online software development courses every 2 or 3 months.
From my Coder days I remember the lack of respect I had for the work of managers. To tell the truth, many of them, far from managing, only followed up. Others, on the other hand, were exceptional and to whom I owe much of the decisions of my professional life. As the teaching work influenced my work as a programmer, my skills to coordinate teams improved. Today I respect and admire both professions. Both are worthy, necessary and complementary. They should be well performed by those who call themselves Coders or Managers (PM, SM, Coach or whatever you want).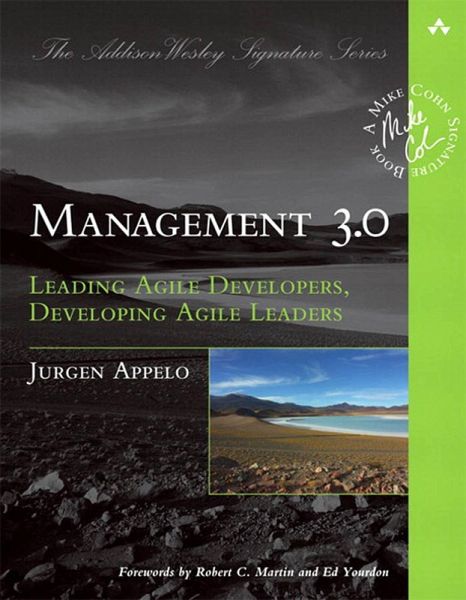 Management 3.0
A classic by Jurgen Appelo, Management 3.0. It is somewhat philosophical and sometimes seems like a personal catharsis of Jurgen. Which is probably why he later released other, more practical books.
The book Management 3.0: Leading Agile Developers, Developing Agile Leaders sets the clear context of the urgency of agility and the evolution of management. Currently, Jurgen is leading the Happy Melly and a real process of organizational transformation.
I want to comment that I love what Jurgen does, but I think he's limited by scale - that is, these are very good ideas, difficult to implement in large organizations. Then the book talks about agility, but little about "organizational agility" or what we technically know as "scaled agile".
Scrum: The Art of Doing Twice the Work in Half the Time
A book by one of the so-called "fathers of Scrum". - the SW development methodology that has revolutionized many teams, many organizations and has evolved beyond IT.
This is an excellent book, which has the same problem as everything else that uses the SCRUM name. Bombastic and salesy title, but with few details. Who doesn't want to get twice the work done in half the time? Although the title doesn't make it clear "at what cost" either.
Scrum is, without a doubt, an excellent small team management model that, far from solving all the problems of the corporate world, is an important part of organizational agility or at scale.
Now, Jeff, and his vendor titles is as guilty of the mediocre Scrum fizzle as all the inexperienced Certified Scrum Masters who don't know how to interact with people. Jeff said it not long ago in an interviewThe 80% of Scrum implementations are garbage.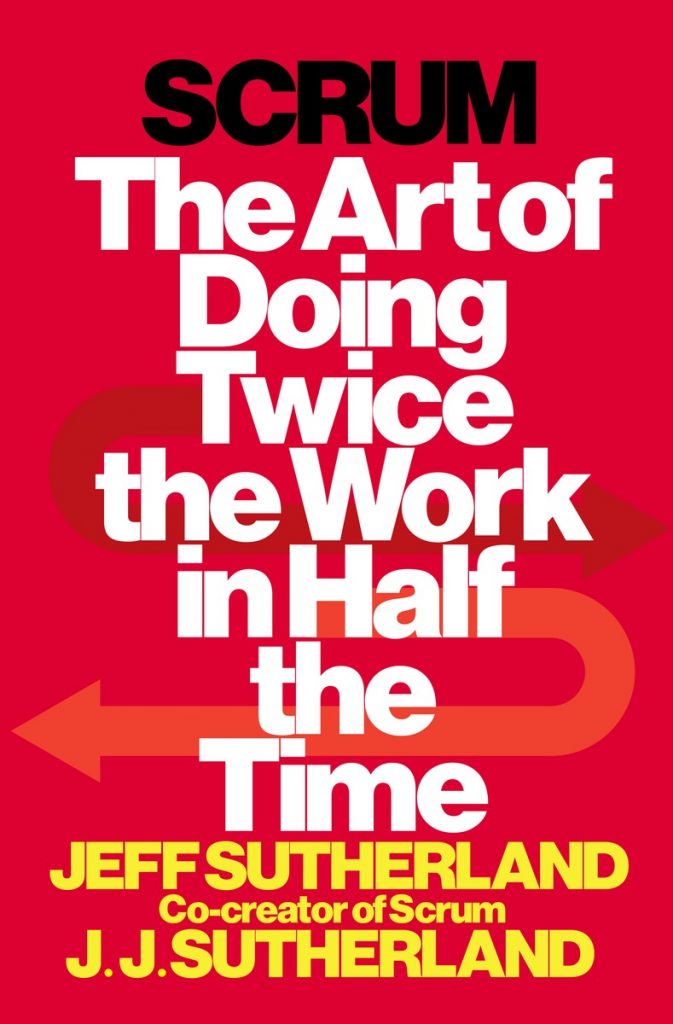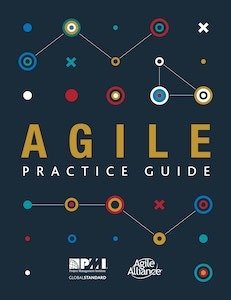 Project Management Institute Agile Practice Guide
I never tire of saying it, PMI is always late to the party, although it is commendable that it always comes to the party. Of course, in this "agile frenzy", PMI played its card - and I admit that I participated in the construction, translation and release of the Guide.
This is a small book, very generic, about general concepts of the application of agile practices to project management. Without being a sacred document, as the PMBoK is for PMI Fans, it is an excellent introduction to the subject. Not in vain the work was done in conjunction with Agile Alliance.
Of course, there are thousands of books, readings, videos and even PodCasts with important information. I invite you to leave your input and suggestions in the comments.
Important Note for Agile Fan Boys and Hippie Agile Coaches. This theme of mediocrity and effervescence is not a Scrum theme. It is a general theme of fads (defined by Jurgen as "Management 2.0 or Fads"). Those of us who have been in the consulting world for a bit longer know that it is inevitable. When a topic becomes relevant and raises improvements or solutions to the organizational challenges of its time, we have pioneers, insiders and, the vast majority who come to the topic by "need", "business" and not "self-interest".
Step 2: Assess the application context
Think about the organization or work structure that will support the goals you want to link to an Agile Evolution. Organizational agility requires a plan. Knowledge without a plan of action is just another book on a library shelf. You need to put that knowledge into action. To achieve this you need to think about the people who will accompany you in the process.
It is necessary to determine the objectives and goals to be achieved, and the organizational capacities needed to make this possible. You need to ask yourself:
What specific skills and knowledge about your industry or your company are needed?
Who should participate in an active, determined and focused way?
Who should work on their daily tasks and at the same time support this new venture?
How will the current operation and the transformation process that is occurring coexist? Although there are models that posit absolute solutions - such as SAFe. This is a process of experimentation for each company. The valuable thing is to make mistakes, make them quickly and at little expense to ensure timely learning.
The important thing: don't be fooled. The same people with the same assignments and workload cannot take on a big new responsibility. Differentiate operation (bringing food to the table) from evolution (ensuring that we can continue to bring food to the table in the future). Remember, if you assign the same people, the operation is more important in the short term than the evolution.
Step 3: Act accordingly.
This process is an investment, and for sure in the short term you will see a negative impact on your productivity. Understand what it means to change the way people think, feel and act towards work, the organization and the people around them.
If it's hard for a manager, imagine for those at the bottom of your company's structure. Everyone thinking what the fuck is going to happen with this change. If you feel fear, it's normal, if you resist, it's normal, you are leaving your comfort zone.
Tip: If you want to get there fast, go it alone, if you want to go far, put together a team.
In a major effort, you shouldn't waste valuable time on mistakes you can avoid. Get constant support over a defined period of time and with clear goals. Acquire the internal skills to be self-critical to correct course where necessary. Seek external support from a consultant or bring in people with experience in other companies. Look for experience, reliability and passion in people. Commit yourself, "if you can't participate, don't send anyone"..