The word war is not inspiring or interesting. But I couldn't find another word that represents so faithfully and simply what happens every day in organizations. There is an open war to find and retain IT talent. And the fact is that IT or information and communications technology talent is today a very valuable and critical asset for almost every organization in the world. Even more so for organizations whose operations depend totally or to a great extent on IT operations.
The coronavirus pandemic has caused an unprecedented transformation in organizations around the world. The adoption of technological tools and the digitization of business and work processes are some of the results of this transformation. And it could not exist without the support of IT talent.
And according to some publications[1]Forbes, article published in June 2021: "The Tech Talent War Has No End In Sight. Here's What You Need To Know"[2]CIO, article published in June 2021: "7 ways to win the IT talent war". we are no closer to ending this war. So here are some thoughts on this "war" and recommendations on how to win to attract and retain the best IT talent.
Demand for IT talent
The first thing you need to understand is, why there is a war for IT talent and how this impacts staff turnover in your team or company.
Shortage of qualified IT talent
Even before the pandemic, a global shortage of skilled IT staff was already evident. In January 2019, Gartner published an article on the risks facing organizations and guess what, the top risk for the fourth quarter (Q4) of 2018 was talent shortage.
Imagine the world already had a shortage of IT talent and along comes a pandemic that forces everyone, EVERYONE, to redesign their work and business model. We're talking schools, universities, government entities, businesses - of all sizes. So you can already anticipate what's happening.
Pandemic as a demand catalyst
The pandemic, in this context of IT talent, did nothing more than dramatically accelerate what in one way or another was going to happen. The digitization and virtualization of many businesses and companies.
While a medical diagnosis cannot be made from home, much of the medical care and treatment can be done through "telemedicine". It should be noted that I am one of those who, for some things, prefers to be in person, such as going to the doctor, going out with friends for a beer and, of course, life with my partner, family and friends.
However, the pandemic magnified an existing problem. According to the 2021 report on "Workforce and Learning TrendsAccording to the CompTIA's "IT Workforce Outlook," about 40% of companies hired new IT staff, and about 66% expect to hire more talent in the remainder of 2021. As it is, the pandemic only exacerbated a problem.
More willing to quit their job
According to an article published by McKinseya record number of employees have resigned in the United States (+15 million) since April 2021. And it is not unique to the world's leading economy.
According to the publication, at least 40% of employees surveyed from various countries are considering leaving their jobs within the next 3 to 6 months.
Something new and unexpected that accompanies this large movement of talent is that 36% of those who have recently quit their jobs had no firm job offer, and 64% of those who are considering quitting would do so without a firm offer.
People are more willing to take the risk and hope that the war for talent means better opportunities for them. And the IT industry is no exception.
A new perspective on the world brings new priorities
The pandemic and remote work has changed many people's hopes, dreams and aspirations. Employees want to invest more in the more human aspects of work. Many are tired or distressed. Much of the workforce is looking to connect, relate and "be part of something". Human connection, feeling valued and an important part of something bigger is fundamental to many.
Difficulty finding qualified talent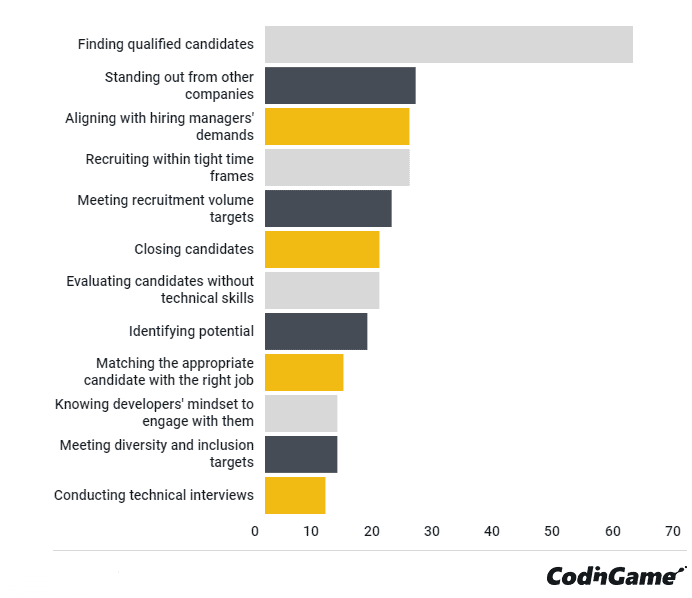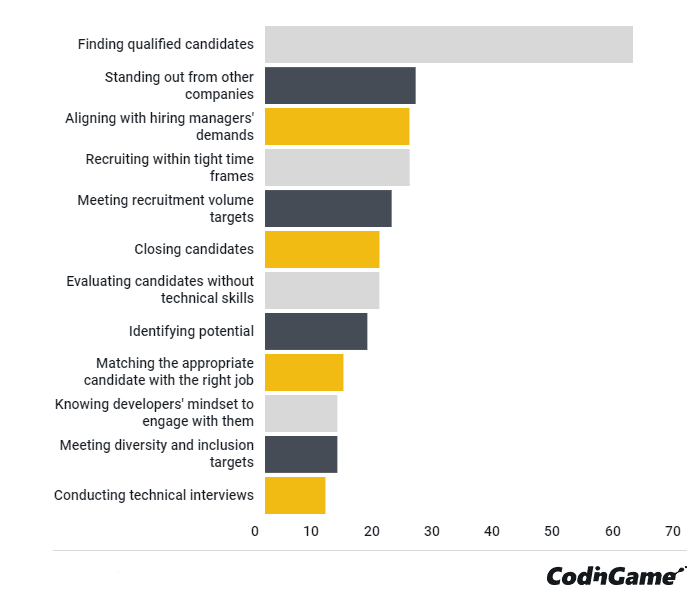 According to the 2021 survey of developers conducted by CodinGame, getting qualified candidates for specialized IT jobs is the #1 challenge for recruiting areas (61%), followed by the need to differentiate yourself from other companies to attract talent (25%).
Cost of IT talent turnover
While demand is increasing, there is a dark side to this war: the cost of losing part of your IT team. IT talent is not only hard to find - as I mentioned earlier - it also takes a lot of time to learn about the organizational dynamics, technology products, and business quirks that make IT so special.
It's not just about knowing a programming language, or about how to operate a system. It's also about understanding how X or Y product serves the organization's business, and the people within the organization and their roles in making "magic happen".
That magic is what we formally know as "delivery". A single person does not make an IT area, nor can he/she operate a bank or a school by him/herself. Knowing the organizational dynamics and the relationship of information systems with the business - or business processes, is key to the success of an IT area and its team.
So when you lose a programmer, or a security expert, you not only lose their specific technical knowledge, you also lose a person able to interact with the organization, understand the requirements beyond the documentation or even solve non-obvious problems. Has it happened to you?
Recommendations for winning the war for IT talent
I'm going to divide the recommendations into two main groups: a) what we can do in our organizations and teams to "attract talent" and b) what we can do to prevent people who already work with us from leaving.
While this list is not perfect, it is a mix of general knowledge - and popular recommendations - and my own personal experience.
Attracting IT talent
The first thing you need to understand is that you're not the only one looking for people. IT talent usually receives several offers a week from other companies. And if they are talented, I can assure you that they are attractive offers from people who are very persistent and excellent negotiators.
So, before we get into the recommendations, you should clearly answer the following question: why should someone who has a job and multiple offers work in your organization or team?
With this question in mind, you should now consider what people with IT skills are looking for.
1. Technical challenges and interesting problems to be solved
IT talent likes a challenge. People who have dedicated their lives to code, servers, security, or connecting wires - as some of my closest family members would say - are motivated by learning and growing skills.
And it is not for less, in this profession, if you stop reading news or learning new things, after 3 to 5 years you are obsolete.
Everyday problems are not always challenges
Technical challenges are not necessarily horrible problems requiring an immediate solution - in my country we call them cracklingand in other countries they are known as pedos or quilombos. While the jobs associated with IT talent tend to have their "unexpected problems that require immediate solutions", the job offer cannot be that of a "firefighter" - that is, a person whose job is to jump from fire to fire, putting it out. That generates wear and tear and frustration in the medium and long term, not to mention the exhaustion or burnout.
2. Flextime, remote and work-life balance
I don't think there is much to explain at this point. The work associated with IT talent can be done, all or almost all remotely. In my particular experience, I have been doing remote work 100% for the last 4 years and semi-presential (2 or 3 days a week in the office) for more than 10 years, and I can assure you that remote work is not necessarily a blessing. It requires discipline and perseverance. It can demotivate some people or even cause depression because of the lack of social interaction and affiliation. I invite you to read this article that talks about remote work. telework.
If you want to attract talent and you can offer benefits of working remotely, let me give you some tips. Remote work has its advantages, but also many disadvantages, and you can take advantage of both.
Flextime and remote work challenge
Working remotely sounds wonderful if you're in front of a computer all day. But the truth is that human beings, or most of us, build personal relationships and "attachments" - and that's what we're all about. bonding - only by regularly attending the office and interacting with other people face-to-face.
In another article on how to manage remote equipmentI'll share some tips with you.
Many people in IT are introverted or socially distant. While this is a stereotype, the truth is that spending 8, 10 or 12 hours in front of a computer screen does not make you more social. Which brings me to my next point.
3. Build memorable experiences
You can offer remote work or the possibility of working from home several days a week. However, people will only want to work in your organization if there is "something to share". Your organization cannot be limited to just work, there must be an extended experience that promotes the feeling of "something to share". belong to.
A few years ago I joined a large SW development company. There were almost 40 of us - and I could have sworn it was #39. In some conversation with the person in charge of recruiting we would talk about how hard it was to get candidates. And that's been going on for about 10 years now. At the time I was telling this person, you have to stop knocking on their door and start building a place where they come knocking on ours..
So, you must sell your company, as a real personal and professional experience. You must make them want to come in, and not make you bring them in. That company in the story today is growing at a terrifying rate (300 to 400 people per month I am told and my experience tells me that it would not be uncommon).
Think again, why would one person invite another to join the company? What would I see in my social networks or from friends of friends that would catch my attention? Here are some examples:
The opportunity to work from different offices or cities where the company is present.
Annual, bi-annual or quarterly events that attract the attention of your candidates - social volunteering, exchanges, challenges or hackathons
Intrapreneurship and spin-offs
The possibility of working from other cities with agreements with hotels or "hotel/office".
4. Salary and compensation
For me, salary is not a measure of job satisfaction or happiness. Otherwise I would never have left good positions in good companies. However, a bad salary, outside of the market context, has no excuse.
If your company suffers from equal compensation, I can assure you that a smaller, but well paid IT team is better than a large team of underpaid people, high turnover and delivery quality issues.
I recently wrote an article about the salary and the composition of salary and compensationwhich can help you better understand compensation models.
Retain IT talent
I could write for days about how to attract IT talent, but it's time to write about how to retain it. So here are some tips that I hope will be useful.
1. Let him do his job
Another thing to consider in retaining talent is to allow people to come up with their own solutions and take on their own challenges. In many cases, more than I'd like to admit - and certainly many of my friends and colleagues - it's taking on a new job only to find that your hands are tied and any innovative - and risky - solutions are going to be de facto discarded.
A few years ago I was talking to a brilliant woman who was my superior and I said to her, what is the point of bringing in people with such a high professional level if in the end, we are here to do what we are told to do. And I told her that in that case it was better to bring in less qualified people and assign them repetitive tasks and just have a bunch of experts telling them what to do. That that was much more cost effective. While this story is much more complex and deeper, the summary is clear, if you bring in good people, let them do their job.
2. Commitment to building a great team
This isn't just a hiring pitch. IT talent loves to work with good people who are personally challenging every day. While it's impossible to have a team full of "stars," that doesn't mean your team isn't challenging or even that, through activities beyond work, your organization's IT talent connects with other benchmarks.
Continuous training in technical skills and new tools
Offering IT professionals and talent courses and continuous learning - with tools like Udemy
or similar - is useful, and demonstrates your real and genuine interest in building an large team.
Supporting companies to build their journey and strengthen their skills is key. And I can assure you that your teams and collaborators will talk about it with others.
Many organizations offer professional development programs or courses, but few provide the time and space to do it right. What good are 1000 courses if you can't attend the sessions and there is never quality time to spend learning?
3. Beyond a job, you offer a team
From the outside, many companies look like wonderful places to work. And surely there are wonderful companies where people feel motivated and energetic. Companies where the attitude of the members makes the environment or "organizational culture" promote productivity, good vibes and the longed-for happiness at work.
However, a great company and a great team are not necessarily the same thing. You can be part of a great company, in a terrible team, or you can be part of a lackluster company, but belong to a great team.
Your perception of the job, and consequently your level of engagement and motivation, are a direct reflection of the dynamics of the team closest to you. It is common to hear that people don't quit their jobs, they quit their bosses. Organizations are only as good as the team you are part of is good.
Even the best company in the world is not exempt from this dynamic. And that's why you need to invest in IT directors and managers who aren't just technical people with more experience than everyone else. You must invest in their leadership and communication skills. Strengthening middle management is sure to make a difference in the organizational perception of your IT talent.
It directly supports team building, team spirit and teamwork. Beyond the speech, let the experience be lived. Can you remember a time when you worked for a great team? What do you consider more important, the experience of working for a great company or for a great team? Although it seems like a trick question, the team is the "representation of the company" in the day to day life of the employees. This is the secret that startups keep best, otherwise nobody would want to work in a startup.
4. The organization is not a family, but you invest a lot of time with your team.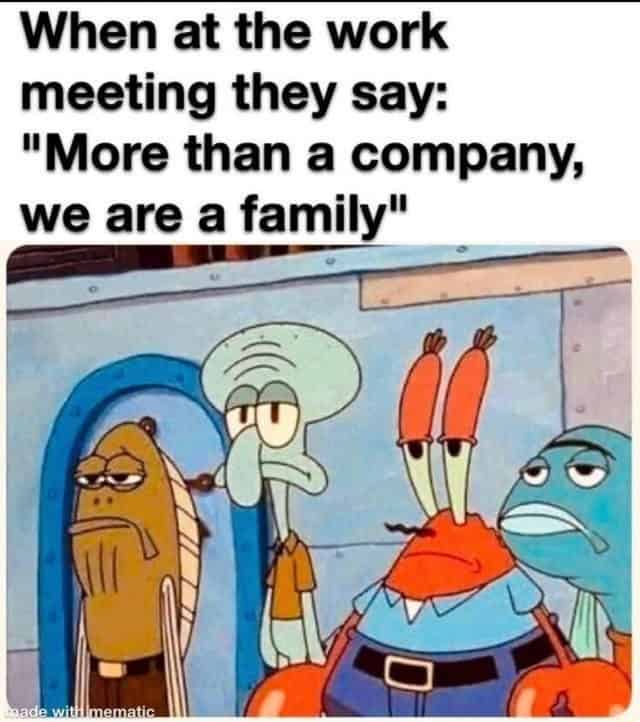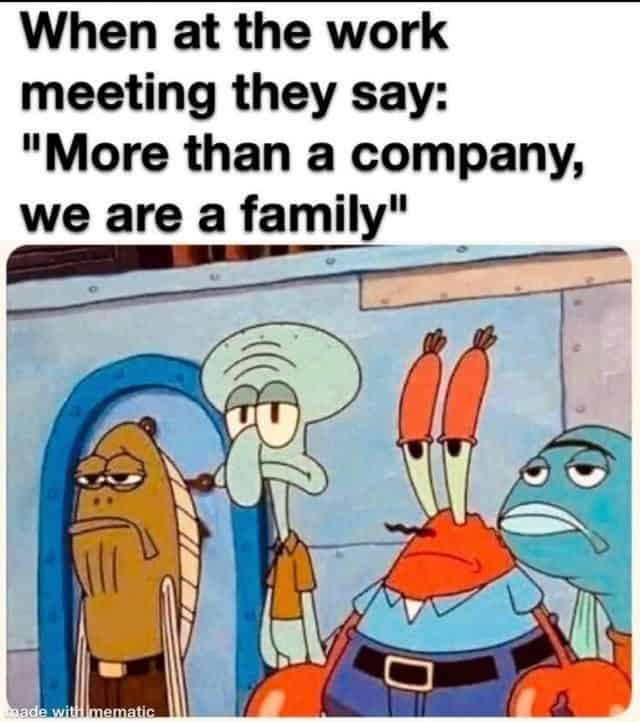 Who hasn't heard this phrase: more than a company, we are a family Really? To be honest with you, more than once I've compromised with the organization I work for. And I don't mean putting in more hours. I'm talking about being the kind of person who promotes the company, helps sell to new clients and get new projects, the kind of person who is passionate about talking about the workplace and the benefits of being a part of it. A true believer.
Anyone who has worked with me at one of those companies knows that I don't just invite people to join the team, I talk about the company all the time and help bring more people in.
But, as Achbar and Abbott rightly expose in their documentary "The Corporation", companies have no sense of ethics or memory. They don't feel pain or sadness for the departure of an employee. Companies use you as long as they need you and will never, ever, ever offer you a job just to help you. If you don't agree with that, you're wrong. If you perceive commitment and human sense, that is not done by the company, nor by its balance sheets, nor by its actions, that is done by the people, the human beings who make the daily decisions within the company.
That's how I learned to love my teams, to work with and for them. My people. Many of them are now my friends. I know it's impossible for everyone to like me, and I'm sure there's more than one who doesn't like me - for some reason I honestly don't know, but that doesn't mean I don't enjoy spending time with my team. In good times and bad. While the projects aren't all happiness, the attitude of the team does make a difference.
So, if the organization or company is not your family, your team is the closest thing that competes with your family. Good teams, good "work families".
5. Talk to them, find out what they need
A key part of a strategy to mitigate the outflow of IT talent from your organization is to know what they need - which is not always the same as what they want. It's not always compensation. It's almost always the connection of our employees with the directors, coordinators or managers. Feeling valued and a sense of belonging.
I've written it several times. While a good salary and benefits is more than desirable, it doesn't guarantee that you'll want to stay forever. Otherwise, no one would give up on the "companies many dream of working for".
A battle that does not end
One thing is clear, and that is that this war is far from over. And it forces everyone - not only those who work in the areas of human talent or recruitment - to rethink the way we work, lead and organize work.
Author's comments and notes[+]