Projects are a fundamental part of our lives. Both on a personal and professional level, projects are necessary vehicles of change to bring progress to individuals, families, companies and societies. However, project management is not something they teach in school or even at university. Many have to take a specialized educational program to approach project management as something important that requires serious and structured learning. However, with the virtualization of many companies because of the COVID-19 pandemic, have the right knowledge and good project management tools is essential to guarantee not only the success of the initiatives, but also the survival of the companies.
Fortunately, today there are project management tools for all tastes and needs, capable of adapting to the knowledge and rigor of each person and workgroup. Many of these tools are native tools in the Cloud - that is to say that they never existed as enterprise systems - that make the most of the advantages of the Web and that have in their DNA clear the concept of user experience or UX.
Here is a list of the best project management tools - it would be an ingenious mistake to pretend that all tools serve the same purpose, and that is why I provide the list segmented into small informal teams, more structured teams and large companies.
Project management tools for individuals and small or informal teams
If you are part of a small team, want to track some tasks within a project, or are responsible for monitoring the work of other people I recommend the following tools:
1. Trello: For beginners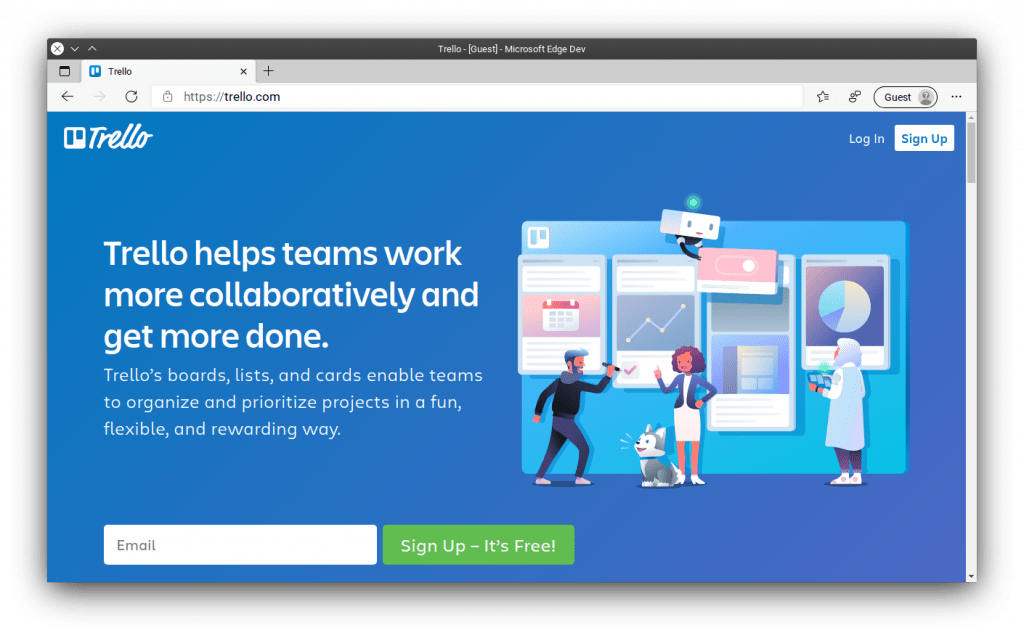 Although many wouldn't recognize it as a project management tool, Trello is a Kanban-based system for tracking the activities of a small team. Some time ago it was acquired by Atlassian - the same people behind Jira and BitBucket.
Without the advanced tracking options or performance reports, Trello can be the right-hand person in charge of tracking a team's activities or even a complete communication hub for teams who want to share information about their work without dying trying.
Trello offers a free plan that is sure to meet the needs of most small teams. However, the reporting options are very limited and there are no mechanisms for performance analysis. In other words, Trello will answer the question "where are we at?" very well, but not "how are we doing?".
2. Teamwork: Simplicity and power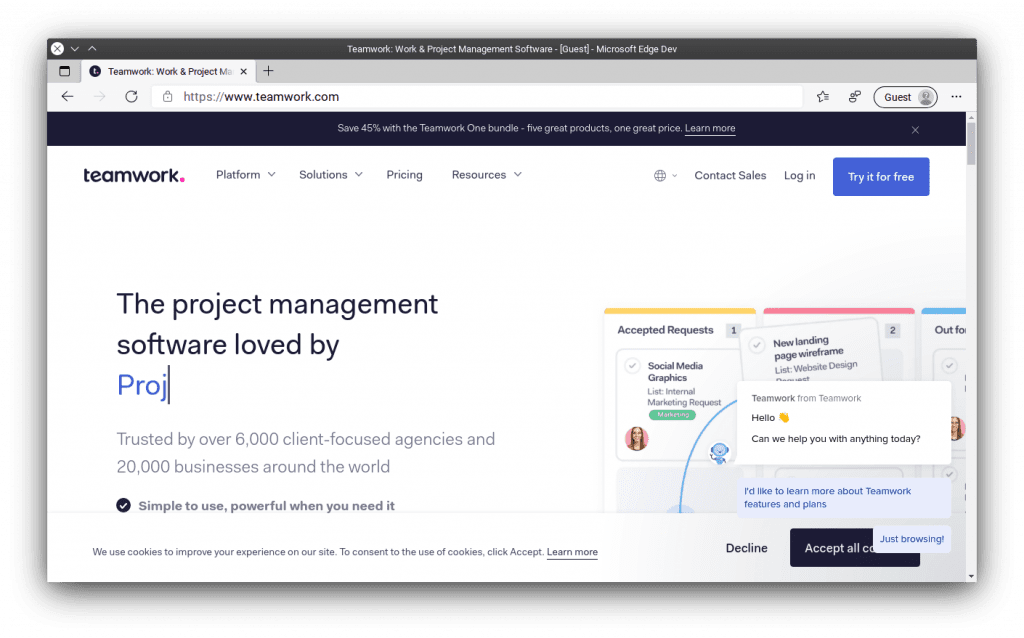 We could summarize Teamwork as an advanced version of a Kanban board. Like many other tools on the market, its interface is based on boards of cards with the team's tasks.
Teamwork is a more structured tool that allows you to activate or deactivate functions, a very useful feature for teams in the process of consolidation. Maturing your practices can happen with Teamwork by activating certain functions.
Teamwork offers in addition to the basic tasks, a scheme of breakdown and prioritization of work that allows better monitoring. Likewise, it offers better reporting and therefore answers the question "how are we doing". It also includes risk, time and billing management. Ideal for agency teams or consulting offices or other business services.
Project management tools for structured teams
The aforementioned project management tools are also useful for well-structured teams. However, in many cases structured teams require more functionalities associated with the governance and overview of the project portfolio. In this sense, beyond teamwork, the following tools provide a more strategic view of project execution.
3. Wrike: Ready to Go Big
Wrike is a great project management tool designed to go big - or scale. Wrike is a management tool that has won several awards and has just been acquired - or is in the process of being acquired - by Citrix.
Wrike has a simple and configurable environment. It allows the design of automated workflows. Its Gantt chart is powerful and reminiscent of various desktop tools from another time. It also allows the creation of custom dashboards for teams and individuals.
Wrike's features include task, subtask and schedule management, shared workflows, real-time communication and other collaboration tools.
4. GitLab: All-in-One for SW Development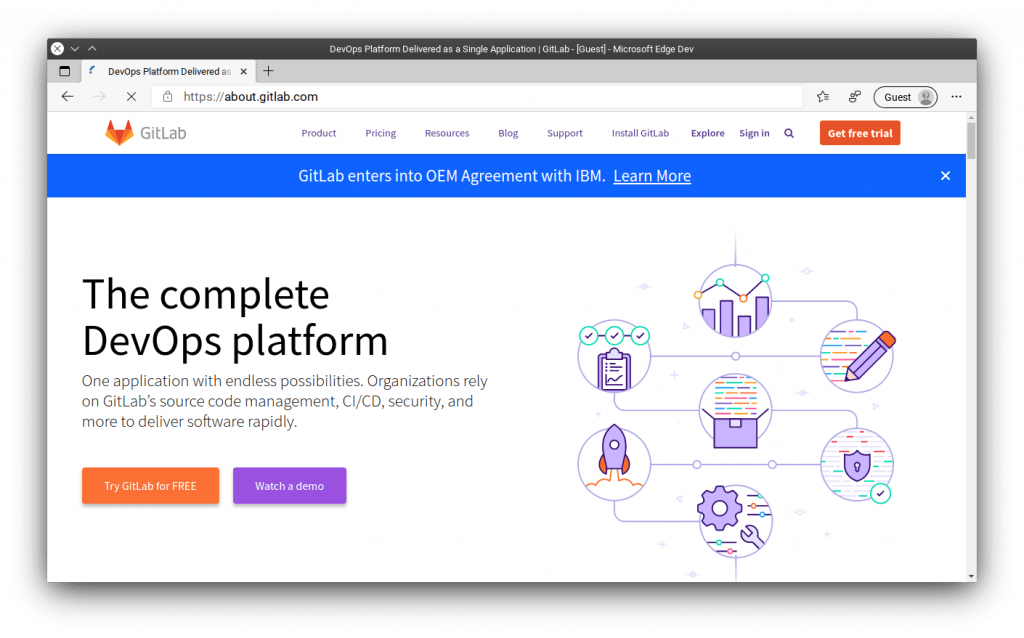 I can't leave this category without mentioning GitLab. GitLab is a tool oriented to the development and/or maintenance of SW and it's all-in-one. Unlike other solutions on the market, GitLab has a simple and efficient licensing scheme that allows teams to access all features without the need for plug-ins - something that personally bores me and in the end makes it easy to calculate the TCO.
GitLab offers a tracking system on Kanban boards with high levels of customization. It allows the visualization of the work according to a Roadmap and the progress according to the progress of the tasks. In addition, it supports particular tasks of software development, such as the inclusion of pipelines - automation flows -, direct integration with the SCM and approval flows for merge requests. Among its outstanding features, I consider the inclusion by default - Gold licensing - the static and dynamic security analysis for applications and source code – exceptional for professional development teams.
GitLab is simple, but not trivial. To get the most out of the tool you need to have a mature management model, from day-to-day work to portfolio tracking with Epics - in the style of Lean Porftolio Management.
5. Monday.com: The favorite of many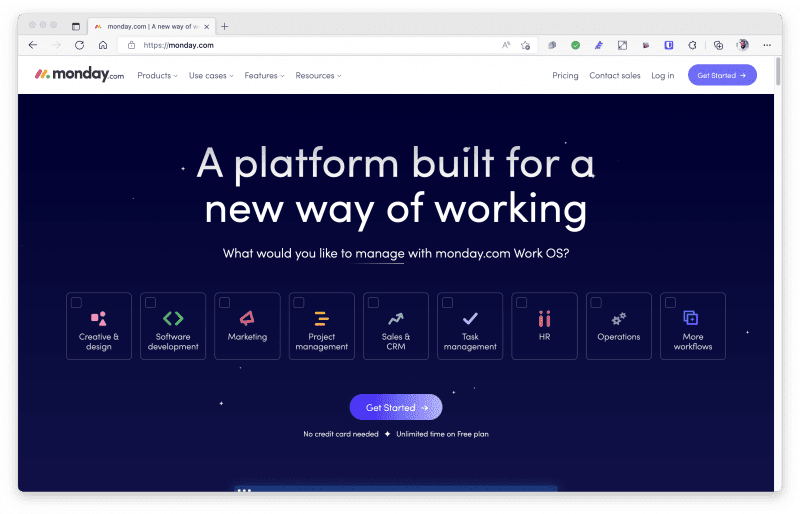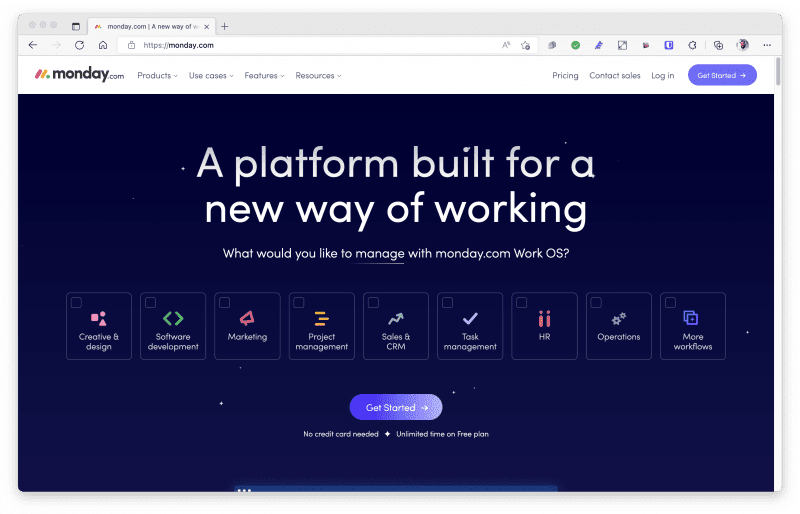 While I don't consider myself an expert on Monday.com - and none of my clients use this tool that used to be known as dapulse - is a tool oriented to work organization - task assignment and progress monitoring. Although we could not call it a project management tool. Like other tools - such as Wrike, mentioned here - it is more of an advanced version of Spreadsheet with visual reports.
However, Monday.com is a bit more complex to customize, use and get support for - compared to other tools within its segment and similar cost - such as Airtable or Asana.
Enterprise Scale Tools
In some situations, project management is an essential part of a company's business - or sometimes a group of companies. For these cases, tools are required that automatically integrate with other complex business systems such as ERP, CRM or accounting systems where the actual costs of projects are allocated.
At other times it is prudent to visualize the strategy, portfolios and tactical objectives structure in a clear way (simplifying planning, budget management and strategy execution follow-up processes). These options are only useful if the organization in charge of the projects and teams is large and complex in structure.
This category includes business tools.
6. Planview Enterprise One: No competition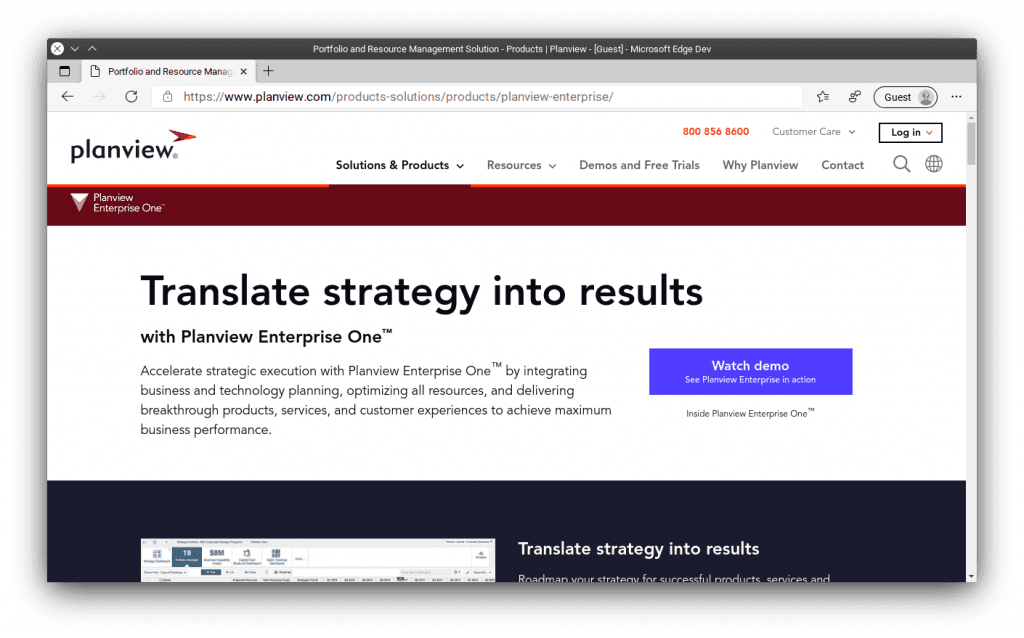 There are many excellent tools out there, but there is only one tool that is the undisputed market leader in the Gartner Magic Quadrant for several years: Planview Enterprise One.
I have had the good fortune to collaborate in projects of implementation and/or integration of this great product in government and private companies in different sectors and - without being an expert - every time I am amazed by the product. The company behind Planview (the product) also has an aggressive plan of improvements, acquisitions and mergers that make the product a real gem.
Over the last few years Planview has made significant improvements to the interface - although I think it still inherits a lot of "interactions" from past eras.
Planview has, among other things, a system of Innovation Management - inherited from the acquisition of Spigit. It also naturally incorporates agile, traditional and hybrid (mixed) project management. Planview makes it easy to integrate MS Project for those who use MS Project on their Windows PCs.
Even more surprising about Planview is its licensing scheme which is far from being the most expensive on the market - although the implementation cost can be high, as all these features require a partner (Planview's ally) for their correct configuration.
7. ZoHo Projects: Honorable Mention
ZoHo Projects is a very simple and customizable project management tool. It allows to visualize projects in a traditional way (through the timeline and Gantt chart) or as a Kanban system (cards on a board).
ZoHo Projects also has an interesting portfolio management model and many parameterization options integrated to its other tools.
The best thing about ZoHo is the price.
Extra: LiquidPlanner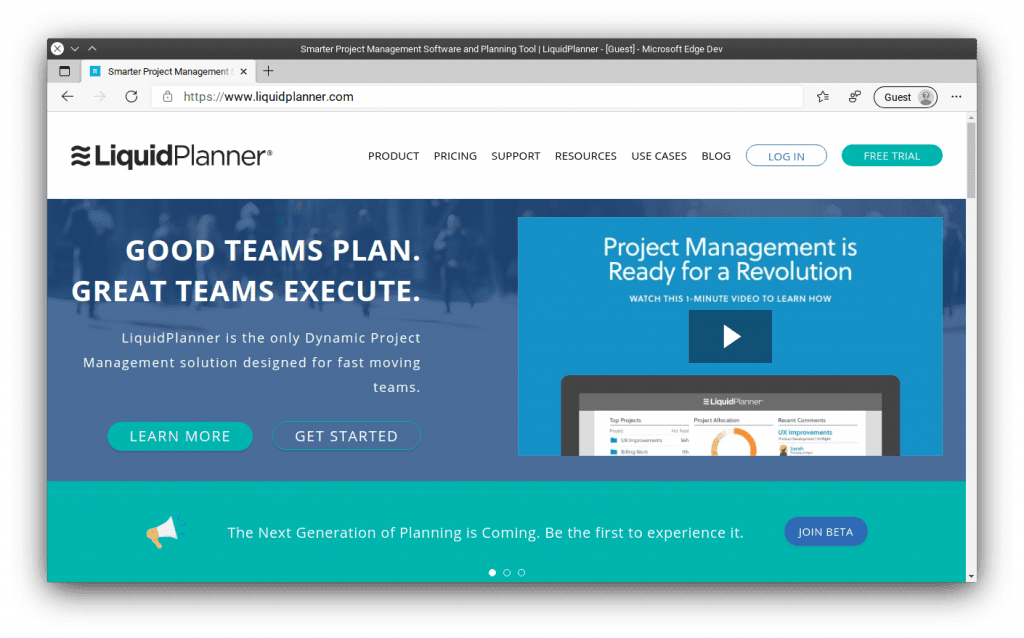 I hesitated whether or not to mention LiquidPlanner. LiquidPlanner is a tool that tries to do many things for many types of users and industries. That for me is a "con" but for many of its supporters it is a "pro".
To me, so many features mean additional complexity that takes the tool away from most users - and yet it doesn't offer the power of Planview or other enterprise tools.
Are there any other project management tools missing?
Of course! There are hundreds of tools on the market for project management, and I'm sure you were expecting to see some of them mentioned here like: Asana, Atlassian Jira, Workep or Clarizen. Let me know in the comments which tools you use and what you think about them.