You might think, why Alberto decided to talk about email clients in his management blog? Well, the truth is that a big part of my job is to send and receive emails and, by the way, manage my agenda. To do this well I need a good email client. And, as you'll see, having multiple email accounts is not something that simplifies your day. That's how I've created this list of the best email clients based on my own experience.
Why do I need a good email client?
Before trying to solve a problem, the best thing to do is to understand what the problem is and why I actually need an email client and the web version is not enough.
Many email accounts from different providers
So let's clear up the problem. My situation as a person, consultant, teacher, volunteer and parent complicates the number of email addresses I have in my name. Let's see:
I am a consultant. This means that I work for different clients, sometimes directly, sometimes through other consulting firms (3).
I am a volunteer. In some of the associations or foundations I collaborate with, they assign me email accounts (1).
I am a university teacher. Inevitably, I am assigned accounts @university (1).
I am a parent. My children's school assigns me an email account for specific and official communications with the school (1).
I have my personal accounts. I have two personal accounts, the standard one and the promotions and subscriptions (2).
What is the purpose of having one of the best email clients?
Simplify the experience of checking multiple email accounts and, most importantly, unify the calendar of activities to avoid a "fragmented" view of the invitations I receive in each of those accounts - without the need to fill up my screen or cell phone with alerts and popups.
How to manage multiple email accounts?
There are many options to unify email accounts. And for many years I could not fully solve the problem of unification of the calendar and management of invitations (that thing that happens when you receive the invitation, but you can not accept, reject or propose a change).
Option 1: define a master account
The idea is to choose an account from where you will check all your other email accounts. To do this you can:
Configure each of the accounts non-principal to forward all emails to your main account
Configure your main account to "consume" the mails from your other accounts - via POP or IMAP
How you set up your accounts will depend on your provider - Microsoft and Office365, Google, Yahoo or ZoHo.
Advantages
It's the simplest option. And it's free
You will receive all emails in a single email account.
Disadvantages
You can't manage your "identities" - in my case, consultant, teacher or friend
All emails go out from a single account - over time you will lose flow to your other accounts (and you might annoy someone by not using the assigned account). In the past it was possible to send mail as "another account" from Google. This option is gone and is only available for business accounts.
It does not unify the calendar. It is possible - but it doesn't always work - that you can see all appointments, but you can't manage them (accept, reject or update) because the account doesn't correspond to the email in the invitation.
You can't tell - easily - which mailbox a message arrived in.
Option 2: open each account in a tab and pin it
This is another simple option. Pin some tabs in your favorite web browser and leave the pages with your Inboxes there.
Advantages
Simple and free
Maintain independence in your identities
Disadvantages
Consumes more time
Does not unify the calendar
If it's a lot of email accounts, it's a lot of tabs and a lot of resources used.
Option 3: Use a unified mail client
This, as you know, is my favorite option. After trying for years to avoid using an email client, I must admit that it is by far the best option.
A key feature for me, and one that curiously Microsoft Outlook does not have - I have no idea why - is what is known as Unified Mailbox, or Unified Inbox. The idea is simple, see all messages as if they were a single inbox.
Advantages
Unify your accounts without losing your multiple identities
Best in Signature Management
Better experience and interface (UI)
Disadvantages
You must pay for the best
Synchronization can be challenging - if you don't set up your services correctly
Some products are not available on different platforms or operating systems.
The best email clients
Now, I'll share with you my top five recommendations.
Job #5. Apple Mail, Microsoft Mail & Outlook
We have a technical tie between these different options. None of them have Unified Mailbox by default and it is necessary to do "some tricks" to "simulate" this functionality.
Personally I think Microsoft Outlook and Mail (Apple and Microsoft) are stuck in a "one-box" world like it's the 90s. It's the same problem with Thunderbird - it's the outlier behind them. They are mail clients from "another era" that have shown little or no interest in renewing themselves.
I discarded Microsoft Outlook because of its approach of downloading all mail and creating a monstrosity of a file named Outlook Offline Data File (OST or PST). Without words, outlook's performance deteriorates with the growth of your mails - for someone who has a dozen accounts, just setting up the mail accounts is a real pain - in time and disk space.
Apple's option works, though not as well as I'd like it to. It works if all your devices are within the Apple "ecosystem". And, over the years I've learned to get my money's worth, and I think the Apple Tax has no justification.
Advantages
They are free - does not apply to MS Outlook
These are products present in your operating system
Outlook - is cross-platform for macOS, Windows, Android and iOS mobile devices.
Disadvantages
You must pay - only for Outlook. Although you must pay for Windows or your Apple device
No Linux version
No unified mailbox
Post #4. Mailspring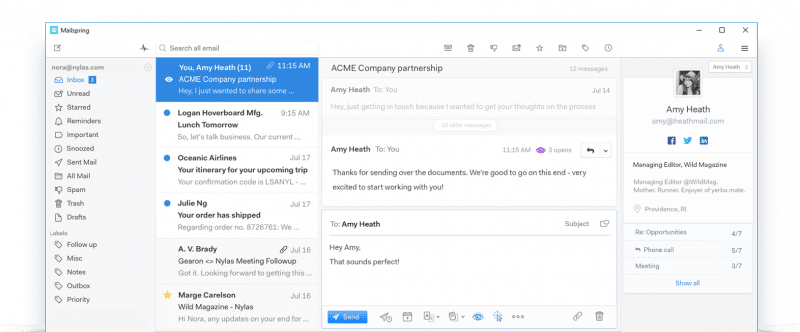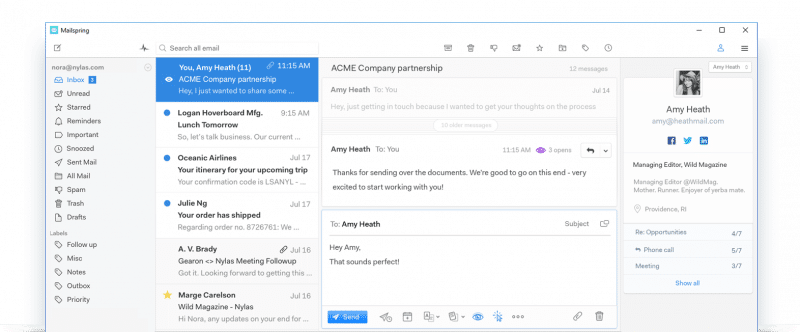 Mailspring is an excellent email client. It's open source and, although there is a Pro version that you have to pay for, most of the features are available in the free version. The interface is clean and works great on Windows, Linux and Mac - and if you know me you know that's very important to me.
Advantages
Free and open source
Multiplatform
Clean UI
Unified mailbox
Easy to set up
It is easy to identify the origin of the messages (it uses colored labels very well achieved in the UI).
Disadvantages
If you have a lot of email accounts it shows you alerts "promoting" the Pro version - nothing serious, but annoying.
No unified calendar functionality
Development is not very active - it's a product with little evolution
No Mobile version - you must use something else to solve the problem on your mobile device
It doesn't sync your accounts when you reinstall the application elsewhere - in my case, Windows, macOS and Linux - you have to reconfigure everything.
Post #3. AirMail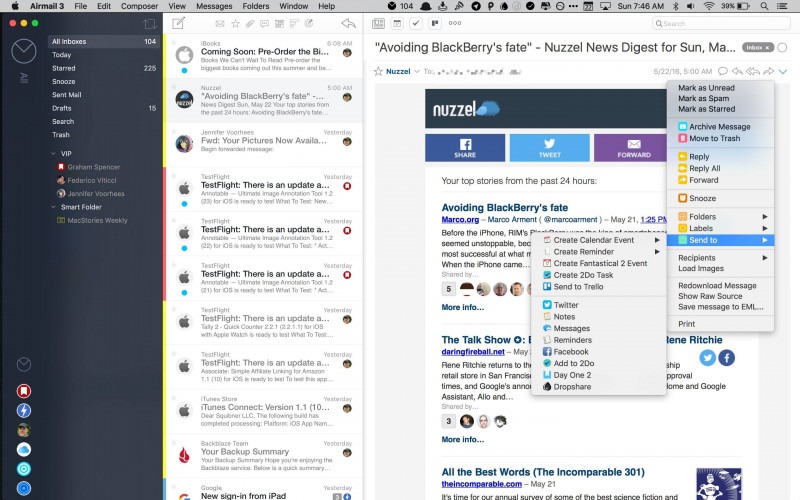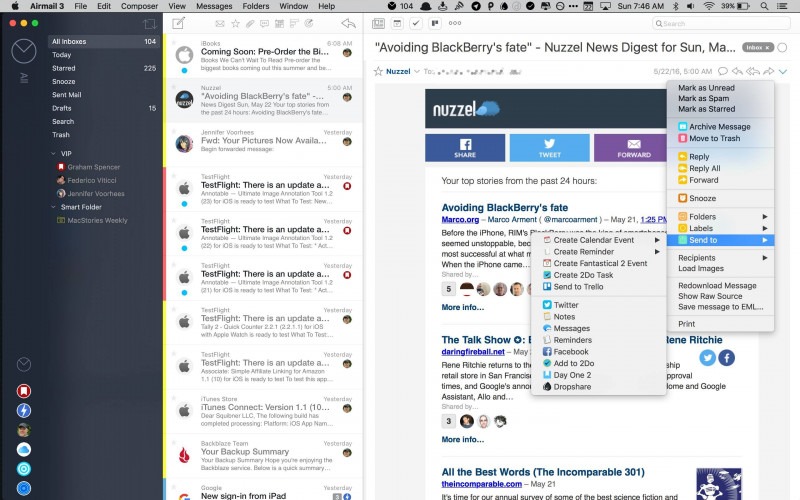 This is definitely an excellent email client. Only for Apple fans.
Advantages
Works on desktop and mobile
Excellent UI
Integrates with macOS calendar
Disadvantages
You must pay
Only works if you're an Apple Fan Boy - macOS and iOS
Post #2. Spark Mail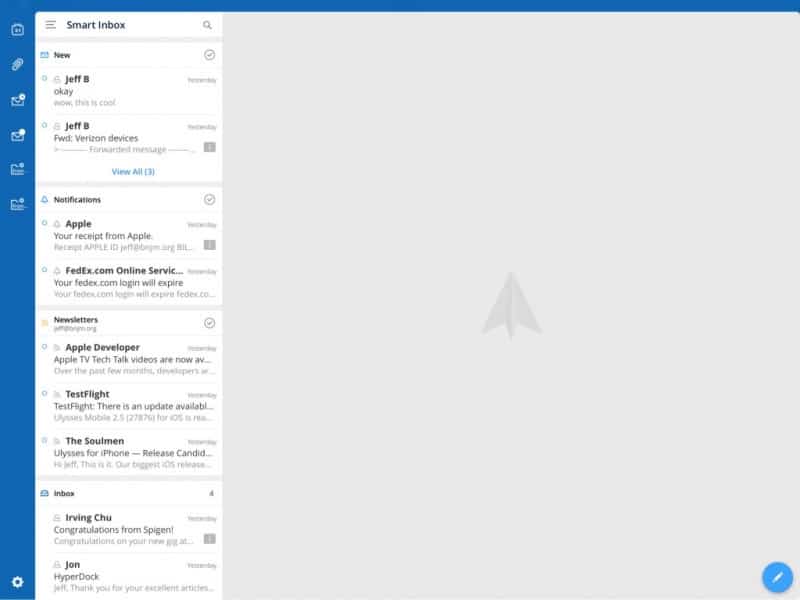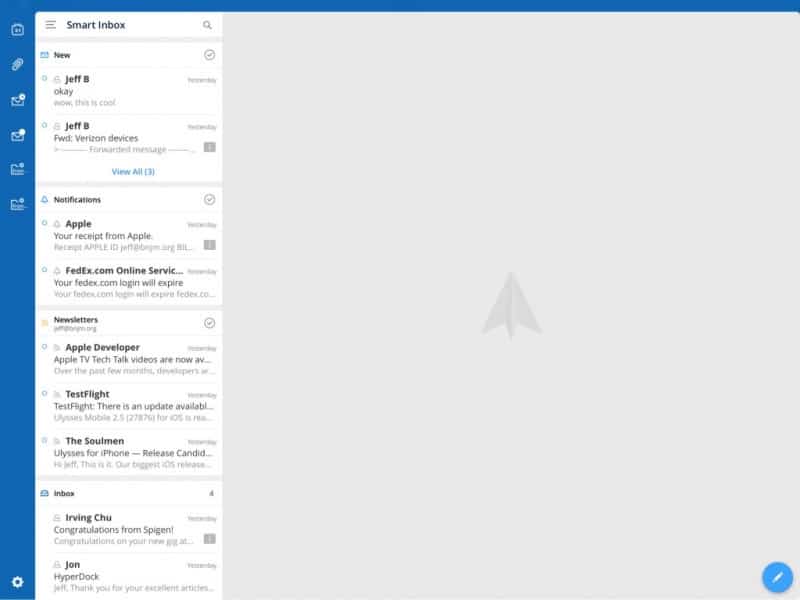 This is one of my favorite mail clients - I even use it on Android. The interface is similar to Mailspring and AirMail. However, Spark does something that is very useful for those of us who are installing and uninstalling operating systems, or switching mobile devices frequently: synchronize your account settings.
It also has a "Smart Inbox" feature that works very well.
Advantages
Unify and synchronize your accounts
Works on macOS, iOS and Android
It has excellent features for writing, scheduling and sending emails.
Has team functionality - when work teams share mailboxes
Disadvantages
Does not have a calendar option
Does not work on Windows or Linux
If you want the teamwork features, you have to pay for it.
Post #1. Mailbird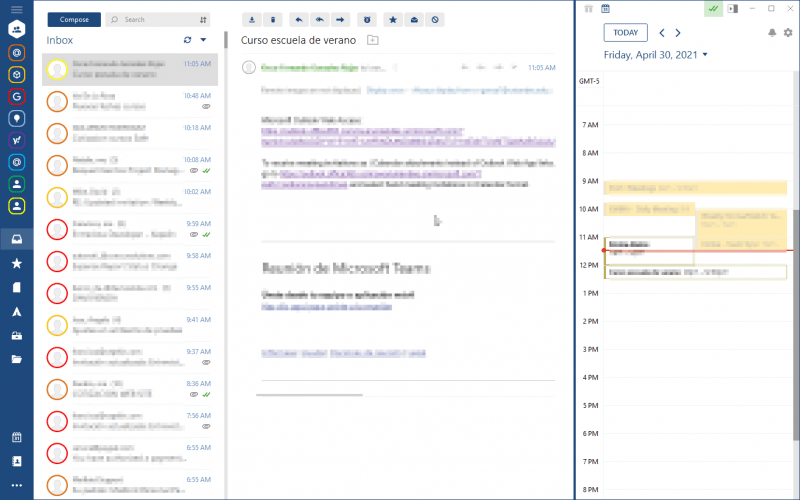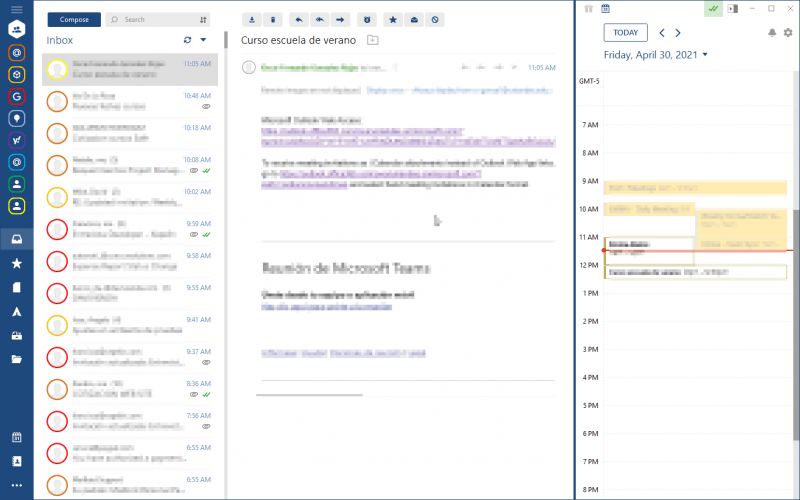 And we come to the winner. Use Mailbird a few years ago and its functionality was similar, but the calendar was not unified. Technically it didn't offer any advantage over free options like Mailspring. However, a few days ago I took another look at the state of development - which ultimately inspired this article.
To my surprise, the calendar of Mailbird improved over time and now it's everything I've been looking for. If you notice in the image, the default view not only shows my messages and all my accounts - unified inbox, you'll also find today's agenda - fully updated and color-coded.
It is simply spectacular. Everything unified at last. Although not everything is perfect. Here I tell you why:
Advantages
Unify once and forever your email accounts
Unify your calendar
It has a beautiful interface
It offers features to schedule your emails to be sent later - something I did with Mailspring and Boomerang for Google Mail - ZoHo Mail has it built in by default.
It has additional integrations - similar to what is offered by Franz with instant messaging
Disadvantages
It only works on Windows - seriously, in what world is a product developed under this technology only for Windows?
No mobile version[1]

My job is, more often than not, in front of my computer, so this one doesn't hurt as much. If it was a more mobile job, it would be a real problem.

Requires some effort to set up - Spark makes it trivial and Mailspring does it better
You must pay - without exception
If you use Office365 accounts - as in my case - you must configure the system correctly as SMTP/IMAP or you will have to pay the more expensive option (Business) to have access to Exchange servers.
Mail Client Configuration Considerations
This is important, and I'm glad you stuck around to read it. When you set up an email client there are many options. But here are the KEY things to keep in mind.
Configure IMAP access over POP whenever you can
If you are one of those who want to keep your accounts synchronized, and forget that feeling of "I left it on the other computer" or "I don't have it on my phone", you should configure very well how you access your email accounts.
Do not use the POP option. This will almost always download your mail to a local copy, eliminating the remote version. Also, it does not sync which messages you have read and which you have not. So you'll have that "re-read" feeling all the time.
Customize each account with your signature and colors
It seems unnecessary, but you don't want to be thinking all the time about which mailbox an email arrived in or which signature you should reply with. Some tools even allow you to customize the icons associated with the account. Spend a little time customizing the system with your colors and alerts. After all, the idea behind all this is to avoid popups and alerts from different systems and products on your phone and computer.
Define your structure and how you will manage your accounts
Although it looks like chaos, the truth is that there is little or nothing I can do to reduce my multiple identities. If that's your case, I could simply ignore everyone and use just one personal account. However, I'm one of those who prefers to keep things separate. And it keeps me out of trouble with my clients and suppliers.
Find out what works best for you. Surely, this list of the best email clients will help you make a better decision.
Leave me your experience in the comments.
Author's comments and notes[+]