What are degrees and certifications, do they make us better professionals? Not really, it's our day-to-day work that makes the difference. However, certifications are a clear path to professional growth. Certifications demonstrate interest and, in many cases, are a good gauge of leadership.
But not all certifications are useful. Some even do more harm than good. Here I tell you which are the best certifications to strengthen a leadership and management profile.
On leadership and management
Before we begin, let's quickly clarify that managing and being a leader are not the same thing. Although for some time we saw memes and "infographics"ridiculing the bosses and praising the leaders. Nothing more foolish and far from reality.
Although criticism and attack generates more followers in social networks than anything that seeks unification and construction of a common imaginary beyond the differences. The slide below was itself "hacked" and transformed into the opposite message.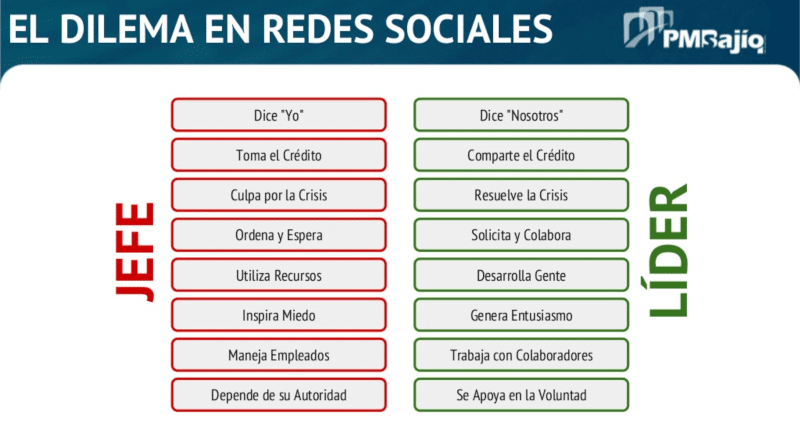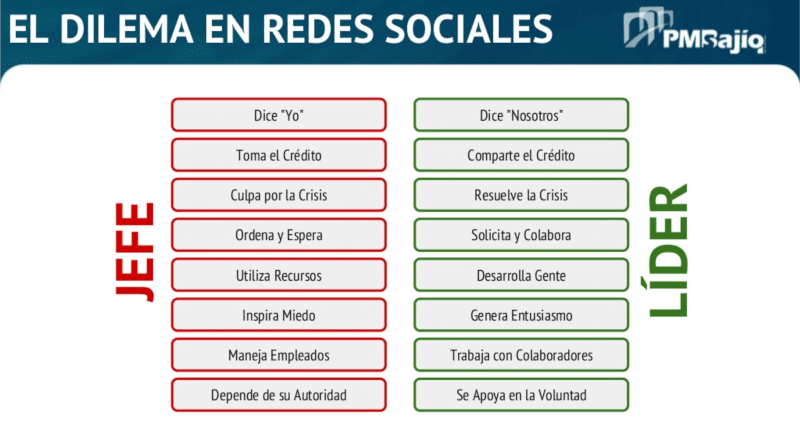 This slide is part of a talk I gave in 2015 or 2016 - I can't remember the exact date. The purpose, and the reason for the title, was to ridicule the romantic idea that leaders are good and bosses are bad. There are bad bosses and bad leaders. There are also good bosses and good leaders.
Good and bad: leaders and managers
Managing is often the unexciting and fun part of the job. Leading and managing includes repetitive activities, reports and cold decisions - the latter being the source of the dehumanization of management.
Leadership on the other hand is imagined as energetic and full of passion. We imagine it with inspiring and wise people who seek a common good, a supreme and higher goal.
The truth is that there are great administrators - managers - and great leaders. There are also great bad leaders. Or what about those people who move millions to decisions that later history condemns - like Adolf Hitler or Napoleon. Does leading always have a heavenly, magical, good purpose?
To delegate or not to delegate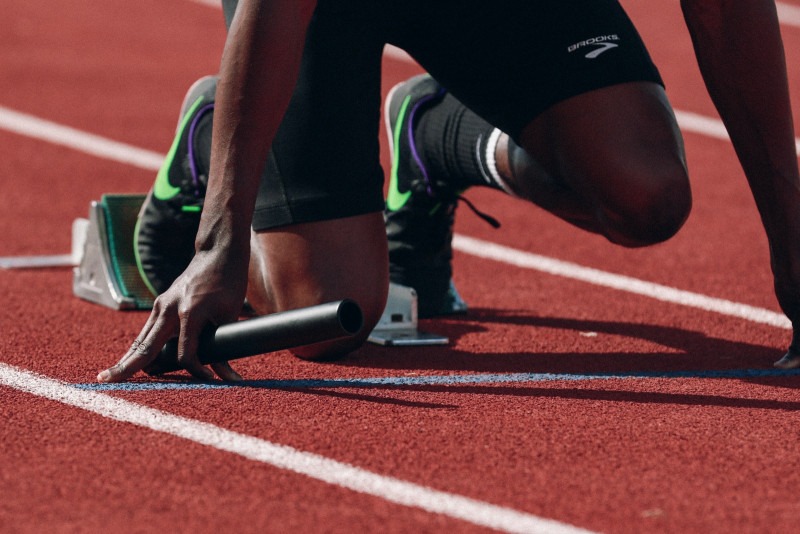 To finish rounding off this point about management and leadership, I invite you to the following reflection: the leadership is delegable, management is not always.
Leadership, whether it is "assigned and accepted" or the natural result in certain circumstances, leadership is something we can share, transfer or even take without anyone asking us to do so. And this is the beautiful and inspiring thing about leadership, in a team, there may be one leader, but many leaders - or none at all. However, leadership, being linked to the individual and his or her qualities, is difficult to transfer from generation to generation.
Leaders inspire more leaders
They say that great leaders are those who create more leaders. However, history proves all the time that this is more lie than truth. And I admit I like to think of it that way, when leadership is like a torch passed from hand to hand changing - for the better - the world. But how many companies die with their original leaders? How many changes happen solely because of the work of a leader - Gandhi? Martin Luther King? Marie Curie? - now that an excellent version is on display on Netflix.
Why doesn't it work the same way with the power associated with office?
On the other hand, management is very difficult to delegate "in execution time". That is, if you wake up sick one day, you can "transfer" leadership dynamically and almost immediately. Even your team can step in and support you without an obvious "choice" of leader. However, if there is no defined chain of command for your absence, you won't be able to delegate power - like signing a document, or representing the company.
Delegating leadership is a matter of capabilities and motivations, and management is a matter of responsibilities and power.
A short story about leadership and management
Imagine for a moment the following circumstance:
It's any given day of the year and the company's finances are not going well. Everyone knows that tough decisions have to be made and that a mass layoff is likely to happen. Suddenly, your boss, who happens to be the person in charge of layoffs, calls you to ask you to be boss for a day and, of course, to take responsibility for firing people. How ridiculous, right?[1]And as ridiculous as it sounds, I once had a boss tell me that I was the person he trusted the most and that my first trusted task was, of course, to fire someone. I wasn't even on the same project or team as that person and had little or nothing to do with that responsibility, but I was..
Being a boss means being a boss through thick and thin. Being a leader does not imply the same thing. Anyone can be a boss or leader in good times, but few have the courage and bravery to be leaders and bosses in bad times.
It is better to lead from the back and put others in front, especially when you celebrate victory because of good things that have happened. [As a leader] you will take the front line when there is danger. Then people will appreciate your leadership.

Nelson Mandela
What are certifications and what are they for?
Having clarified the management and leadership point. Let's talk about certifications.
What are professional certifications?
Professional certifications are made up of two things:
Process - By which you apply or compete to obtain the certification document.
Certificate - A document issued to confirm that, once you have successfully passed the process, you have the knowledge, experience and skills to carry out certain functions.
Types of professional certifications
You might think that all certifications are the same, but they are not. Professional certifications can be divided into three, as follows:
1. Product specific certifications
These are very popular certifications and are almost always supported by a company that sells the product, service or model in question. With these certifications you demonstrate knowledge, experience and skills in the use of a particular product, work model or service. Some examples of professional certifications within the context of management and product-oriented are:
These certifications circumscribe your "capabilities" to a specific model and context. They give you speciality while narrowing your field of application - as far as certification is concerned.
2. Transversal professional certifications
Although you might think they are the same as product certifications, these certifications are generally associated with practices within a market or industry, and are not limited to a specific work model - methodology or technology.
In most cases, the certifying body is a professional association or institute that brings together people in certain professions - doctors, engineers, architects and, why not, project managers.
Some of the best professional certifications in our environment are:
These certifications do not confine - or limit - you to one context. This makes them more difficult to obtain and usually requires more experience. They are good to the extent that they maintain their level of demand and prestige. However, you can't always establish a 1:1 relationship between a certification and a job title or position.
3. Corporate Certifications
These are internal certifications issued by companies to their employees. They are almost always accompanied by a process of professional growth and development. These certifications are also an attempt to "gamification"of professional development in the company.
Professional positions and certifications
One thing you should ask yourself before applying for a certification is what positions and responsibilities you want to have in the organization or company. Whether you want to apply for a position in your company, or change your workplace, you need to understand what one certification or the other brings to your career and interests.
We all know people who have many certifications, and the question I always ask is: what is your specialty? If your certifications don't demonstrate a particular interest in a particular area of knowledge or specialty, then your specialty is "getting certified" - what a waste of time and money.
As I said before, not all certifications can be associated to a position, here are some examples
Most likely charges for a specific certification in management or agility
| Certification | Most Likely Charge |
| --- | --- |
| PMP | Project Manager |
| SM | Scrum Master in a Scrum Team |
| LPM | Portfolio manager under the SAFe model. |
| DAC | Disciplined Agile Coach / Consultant |
| PMI-ACP | N/A |
| ITIL v4 | N/A |
As you can see, not all certifications have an associated position. Of course, your experience will be a clear differential when applying for a position. So, for example, if you are someone who has managed IT areas, an ITIL certification and an MBA degree are an excellent way to demonstrate interest in the subject and mastery of your functions.
Likewise, if you are a project manager and want to demonstrate knowledge and experience in "agility", you can choose to become PMP and PMI-ACP certified.
However, if you want to apply for the specific position of Scrum Master in an organization that uses the Scrum framework for its teams, you should get certified SM.
Qualities of a good certification
I have already discussed the elements of a certification, and therefore a good certification has an excellent combination of those elements. Always remember to validate:
What knowledge do you need to have and demonstrate?
How much experience do they require?
What are the skills you need to develop and demonstrate during the process?
A good certification is clear on each of these criteria and demanding on at least one.
1. Knowledge-based certifications in one domain
The simplest certifications to obtain, and the least valuable to your career, are those focused on knowledge of a subject. They are certifications oriented to learn something by heart. These certifications are useful at the beginning of your career and are known as "foundation certifications".
Since experience is not required, they will help you at the beginning of your career - or when you embark on a new career path - and focus on learning basic (rarely advanced) concepts.
How to validate if a certification is knowledge-based?
It's easy:
They do not require previous experience - neither during the process, nor in the exam.
Some do not have recertification processes[2]

Recertification is a process that promotes continuous learning and "knowledge upgrading" for those who maintain that certification. It may seem boring, but it is necessary for good performance and not falling into "obsolescence" - have you ever had a superior who seems to be from another era and has not learned anything new? Don't you find it frustrating to have a person who does not grow professionally over time?

.
The process does not require an exam or the exam is very simple. For example, it allows you to take the exam many times - some have unlimited attempts.
Reflect, if getting certified is so simple, what value does it have to your resume? Some certifications remind me of that "thank you for participating" "little star". They are just trophies for mediocrity. If you get it, congratulations, you can put it on your CV, but I give you a tip: do not publish it on your social networks, for some people it is a source of ridicule.
2. Experience-based certifications
These are difficult certifications to obtain - at least more so than knowledge-based ones. They are also more expensive. Depending on the years of experience required to qualify or apply, you will find these types of certifications:
Fundamentals. They are useful for demonstrating knowledge on a specific topic. You will find them as "foundational" o "foundations". They require little or no experience.
Practitioner. They serve to demonstrate some expertise - they are almost always called "practitioner" or "practitioner".practitioner". Normally they require between 1 and 3 years of experience applying some model or exercising some functions...
Professional. These are certifications that, for the most part, require at least 3 years of experience performing certain functions or positions.
Expert. Well, you get the idea. These are what are known as "senior" certifications and are not very popular. Those who hold them demonstrate a real interest in a subject or domain.
There is a tendency to mark certifications as "Level I, Level II or Level N" or to fragment certifications into Standard, Professional and Expert.
Before choosing a certification, take the time to understand what levels exist and what commitment you are making by becoming certified. Most reputable certifications are an ongoing commitment that requires not only keeping up to date, in many cases participating in various activities and courses, as well as paying a periodic fee to maintain the certification.
3. Skills-based certifications
They are not very common and almost always have a very complex certification - and recertification - process. Some of these certifications require peer review, mentoring and assisted fieldwork - that is, you work hand-in-hand with someone who is already certified, who will act as a mentor or sponsor.
Although rare and expensive - due to the certification process itself - they are very prestigious and almost always associated with professional or expert levels. Also, many of the coach certifications require "flight hours" - like aircraft pilots.
The importance of recertification
The best certifications are not limited to passing an exam. Some have detailed recertification schemes. Recertification looks for three (3) things:
Ensure that those who hold the certification are kept up to date on new concepts and practices
Only those who demonstrate interest in the specific domain deserve to maintain certification.
Obliges the certifier to maintain upgrade options for the community
Remember that the more detailed and more complete the options for staying certified, the more work and effort there is on the part of the certifying body. This means that the cost is likely to be higher.
Good process, good material - such as books, courses, articles - and excellent events - such as talks, webinars and conferences - come with a price.
If you are only paying money to maintain your certification, you should re-evaluate the value it has for your profile. There is probably a business behind it, but not a skills certification.
How much do certifications cost?
Well, there are certifications of all kinds. However, always remember that it is not only the price that defines the quality of the certification. If a certification is too cheap and easy to get, well, it has no contribution to your career and job performance.
If a certification is free, but requires a lot of work and effort, it will be more valuable than one that is worth thousands of dollars - which there are - and requires you to do nothing more than get the money.
The best certifications in management and leadership
Here is some useful information about the most respected certifications in the context of projects, agility and teams. They also point to the most professional opportunities and offerings:
Project Management Certifications
PMP - Best in Class
If you haven't heard of PMP or PMI and you're in the project management world, you're not doing your homework right. The Project Management Institute, while not the first, nor the only project management institute or association in the world, is by far the largest and most prestigious. Its certification and renewal standards model is by far the best and most comprehensive of all.
Name
Project Management Professional
Acronym
PMP
Supplier
Project Management Institute
Type
Experience-oriented
Level
Professional
Experience
3 years in practice
Value
USD $ 555[3]

It is possible to reduce the price if you are a member / affiliate.

Recertification
Yes
PRINCE2 - Projects in Controlled Environments
PRINCE2 is a method-oriented certification originally promoted by the British government. It is very popular in the UK and in countries that were once colonies or still have a strong British influence in their government or business sector.
Name
PRojects IN Controllerd Enviroments 2
Acronym
PRINCE2
Supplier
Axelos / People Cert
Type
Product-oriented
Level
Fundamentals / Practitioner
Experience
Depends on the level
Value
USD $ 338 Fundamentals
USD $ 457 Trainee
Recertification
Yes
Agile Team and Project Management Certifications
Within the context of project and team management, the agility has gained ground in the last two decades. So, to take advantage of the boom of our days, there are also professional certifications oriented to this specialty.
PMI-ACP - Broader and more respectable, but a tough sell
The PMI launched 10 years ago - September 15, 2011 - the certification Certified Agile Practitioner. Originally intended as an "add-on" to its most popular certification: PMP. Today, it is still one of the best certifications in agility and an excellent complement to other certifications. But to what position do you apply when you are PMI-ACP? It is an answer that is still unclear today.
| | |
| --- | --- |
| Name | PMI Agile Certified Practitioner |
| Acronym | PMI-ACP |
| Supplier | Project Management Institute |
| Type | Experience oriented |
| Level | Practitioner |
| Experience | At least one year |
| Value | USD $ 495 |
| Recertification | Yes |
PSM - for those who are serious about Scrum
Scrum is a very popular framework of our time that relies on the agile mentality to promote a new model of management and teamwork.
Name
Professional Scrum Master
Acronym
PSM
Supplier
Scrum.org
Type
Experience-oriented
Level
From basics to professional (I, II and III)
Experience
Depends
Value
in US dollars
USD
$150 Fundamentals (I)
$250 Trainee (II)
$500 Master (III)
Recertification
Yes
CSM - first cousin of PSM
The Scrum model has two "daddies" and each of them has a company that promotes Scrum - One is Scrum.ORG - which offers PSM - and the other is Scrum Alliance - which offers CSM. Both are the best Scrum Master certifications you can get.
Name
Certified Scrum Master
Acronym
CSM: Fundamentals
A-CSM: Trainee
CSP-SM: Professional / Expert
Supplier
Scrum Alliance
Type
Experience-oriented
Level
From basics to professional
Experience
Depends
Value
Requires a previous course - the value depends on the course and the country.
Recertification
Yes
Other agility certifications
PRINCE2 Agile is an adaptation of the PRINCE2 model towards agile values. This certification is not very demanded in our Spanish-speaking market, so it is difficult to "sell" or get people with this profile.
International Consortium for Agile certifications (ICAgile) - although their certifications are not the most popular, they are definitely the ones who, as of this writing, offer the best career plan and the most structured professional growth model. They have clear learning and certification paths in two areas: 1) Organizational Agility – Business Agility, y 2) Agile Delivery of Products and Services – Agile Delivery. However, they are less formal or "academic" than PMI, Scrum.ORG, and Scrum Alliance.
Certifications in organizational agility or at scale
Within the universe of certifications in agility issues, we have a line oriented to the application of a "Agile".agile thinking"to an entire organization - hundreds or thousands of people.
In this context the key players are:
Disciplined Agile - of the Project Management Institute. It is one of the fastest growing models and rescues (like all others) the best practices and experiences of companies and organizations. I am certified as a Disciplined Agile Senior Scrum Master DASSM and I am also PMI-ACP.
Scrum @Scale - this is a simple model proposed by Scrum.ORG itself. Personally I think that when one disavows so much of scaled models and then proposes one, one simply realizes that "one-size-fits-all" is a silly dream. The model, without being sensational, brings good reflections and considerations in scale.
Scaled Agile Framework - this is the most popular model at the moment, and while the central image posted on the website is underwhelming, the model has several interesting and valuable things - I was introduced to the model in 2013 and in 2018 I became certified as a SAFe Program Consultant. I admit there is value in each thing, without getting into fanaticism or radicalism.
Leadership Certifications
Well, these certifications are, in my opinion, very complex to evaluate. What is leadership? How should it be "perceived" and "measured"? Leadership is key in every venture or initiative. Every project I have worked on in my life has required leadership, but not always from the same person - needless to say, I would think that I am always the leader.
Leadership is powerful and exciting, but it's also exhausting - energy & time consuming - So this romantic idea of the tireless, ever-focused leader is, wonderful for books and novels, but when you read the biography of many well-known leaders you know that, although the central character is the shining star in the story, he is not the only star, and he certainly wouldn't be any star without the others.
So, in an attempt to offer some clarity in this context - and I admit I'm not the expert on certifications - I'll leave you with a list of those that offer a range of possibilities for your professional growth - IMHO.
Leadership and management skills
Although there are very traditional certifying entities, the most popular - and successful in sales - leadership courses and models are almost always associated with a proper name such as "...".John Maxwell" o "Daniel Goleman".
There are some institutions recognized in leadership issues such as the CCL - Center for Creative Leadership. I had the wonderful good fortune to be chosen to participate in the program of the PMI Leadership Institute - known as MasterClass, and I am a class of 2017. I took some CCL courses there.
However, the issue of certifications is a bit more complex than courses and programs. So here is a list.
Management 3.0
I can't say that they are the most structured and formal certifications in the industry, but they are certainly the most radical and innovative. Although I think Jurgen - the author of the book Management 3.0 - is too idealistic with his proposals and models, and this ignores - if not turns his back on - large companies and corporations. His ideas are excellent and have value, but they definitely require careful thought in every situation.
My best recommendation is, if you want to get out of the box and get new ideas for managing, motivating and leading teams, Management 3.0 would be my starting (not finishing) point.
Plus, the community is vibrant and very active, there are resources in multiple languages, and you'll always find people passionate about trying to "hacking culture"of the organizations.
Change Management
All processes of transformation and evolution are processes of change. Knowing how to manage change is essential in leadership. Some of the most popular certifying bodies in change management are:
PROSCI - The undisputed topic leaders with their models ADKAR and PCT
Human Change Management Institute
Change Management Institute
Lean Change Management - a particular version of change management with a strong influence of the Management 3.0 model
Coaching
Well, I can't close this article without talking about Coaching. Even in agile management there is a lot of talk about Coaching and the Agile Coach. I am not a big fan of this "title of nobility" that seeks to hide the fact that few people are really prepared to exercise a true coaching role.
However, there are several prestigious and recognized institutions in coaching - in management - that are sure to enhance management skills.
Again, I have my doubts, coaching is a great leader enhancer, but is the coach himself a leader? Is it possible to be a coach and a leader at the same time? I have my mixed feelings.
How do I know if my certification is valuable?
If you have read the whole article, you surely know how to validate if a certification offers any benefit for you and your professional profile. However, here is a summary:
Always validate which entity issues the certification. What is the entity that issues the certification? How long has it been in existence? Can you evidence a specialty? Is it recognized globally? What is the opinion of this institution and its certifications in the countries of reference for your profession or specialty?
Study the prerequisites. What prerequisites does it have? How demanding is it? If you have references in your profession, do they have any certifications?
Review the recertification process. Is there a recertification process? Does it require more than a fee on your part? Is there a vibrant community around the entity or institution and its certifications?
Don't look for the prettiest logos. Issuing a certification logo is the simplest thing in the world. You can do it without having to pay anyone and put on your resume such "fancy" and extravagant things as "Life Architect" or "Master of Spirit Management". So, don't let them charge you for it.
Do you have doubts about your certification?
If after finishing this article you still have doubts about any certification - that you want to obtain or already have - feel free to write in the comments and I will surely help you evaluate.
Author's comments and notes[+]